On Track for Greater Automation
By Karsten Oberle , Head of Rail Business at Nokia
Across the railway sector, the trend to digitalise operations continues to gather steam. It is driving the automation of processes and operations and improving efficiencies, costs and safety. Industry 4.0 technologies such as IoT, 5G, edge clouds, AI and machine learning are helping railways to optimise end-to-end processes, adopt predictive maintenance, and automate everything from driverless trains to yard operations.
Sometimes referred to as Rail 4.0, this is an exciting area for innovation with new applications and use cases being developed all the time. Railways have many long-lifecycle assets that will take time to replace, although that differs by region, with some like the U.K. having a higher percentage of rolling stock that is nearing end of life. Nonetheless, there are many compelling use cases that will drive investment in automation over the next five years.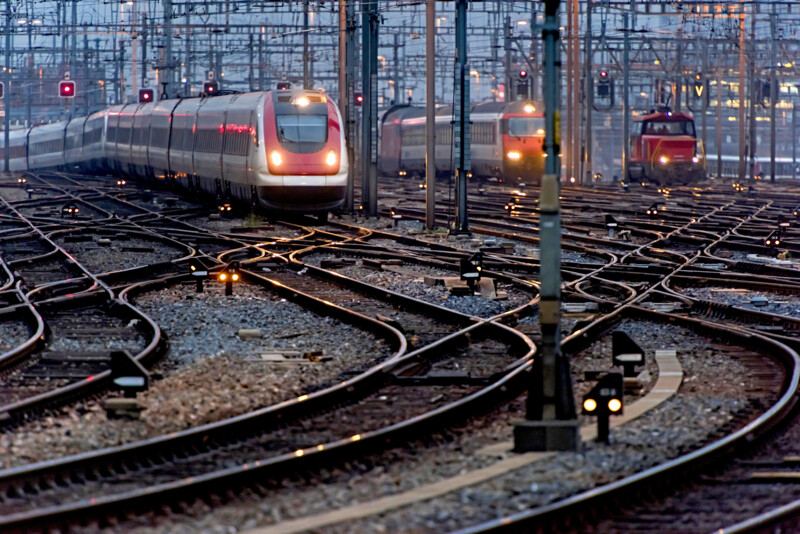 Digital Railway Twins
One of the benefits of digitalisation is the ability to use the data collected on physical objects and processes to better understanding and optimise operations. Sometimes referred to as digital twins, the idea is to create a digital model of a real-world process based on existing schematics and historical data. AI and machine learning are then used to analyse both historical and real-time data to develop insights on how to optimise operations.
These data modeling systems can be used to do everything from predicting the actual arrival time of trains to when it is best to perform maintenance on rolling stock. They help personnel to make sense of the reams of data that stream in over wireless networks from all over the rail network. They can be used in planning, design, engineering and daily operations.
Predictive Maintenance
One of the key uses of digital twins and machine learning technologies is in maintenance. Given the capital-intensive nature of rail technologies, ensuring high levels of asset availability is critical, not just for the economics, but also for reliability and public safety. Maintenance tends to be labor-intensive and costly, thus railways are willing to make substantial investments in technologies to help them improve maintenance productivity.
Traditionally, maintenance frequency is based on a schedule set by the manufacturer based on what is the safest interval, which tends to default to more frequent maintenance than is necessary.
Predictive maintenance harnesses IoT sensor data to understand the actual performance and current condition of the asset such as tracks or rolling stock. Software analytics correlate the observed condition to known equipment failures in the past. In this way, it is possible to better understand the real performance and condition of the asset and more accurately schedule maintenance and assign resources. These systems can also catch early edge cases that a fixed schedule might miss, while reducing the amount of maintenance that is required overall. This improves safety, asset utilisation efficiency and may even reduce the reserve asset capacity that is required.
Remote Inspection
Rail maintenance and engineering teams spend much of their time walking and riding the rails to monitor their condition. It is now possible to remotely inspect tracks using train-borne technology and drones. Other devices such as sensor sheds use 3D imaging to visually inspect rail cars as they pass through the shed, either in the yard or on the mainline. Other digital inspectors can inspect the undersides of carriages or overhead electrical lines.
Video analytics can also be used with many older CCTV cameras to extend the data collection to existing installations. Even low resolution, older cameras can capture sufficient data for machine learning systems to recognise safety incidents, estimate the level of crowding in cars or on platforms and, in this way, help to model passenger flows and congestion and more accurately plan for capacity.
Automating the Rail Yard
Although shunting operations are not the most high-profile part of running a railway, they are one of the use cases where automation and remote operations is having an impact today. Reliable wireless communications based on technologies like LTE and 5G, are enabling yard workers armed with wireless terminals or beltpacks to control the shunter remotely as they carry out mechanical tasks like pulling pins and other interventions needed during shunting and marshaling.
This means that one yard worker can do the work of two, improving productivity. To ensure the safety of the operation, the shunter is mounted with cameras and sensors to avoid running into obstacles. Retarders are used to ensure safe coupling and regulate speeds over points. If issues arise, redundant control can be assumed by control tower personnel who take over control of the shunter. If no control signal is present the shunter simply stops until control is reassumed.
The Shift to Broadband Wireless
A common theme in all these use cases is the need for reliable and secure broadband wireless connectivity. Data can come from sensors, video cameras and operational systems, but it must be transmitted by low latency, high bandwidth communications in a secure way. The standard for rail communication today is wireless GSM-R which is being used in almost 40 countries worldwide. The Future Railway Communication System (FRMCS) standard work is recommending broadband 5G wireless to replace GSM-R. 5G/FRMCS will enable rail operators to handle very large sensor networks and integrate cloud and edge computing to support more scalable data analytics applications and automation.
Broadband wireless will also provide rail workers with advanced mission-critical voice, data and video communications. With the move to broadband wireless technologies, rail operators will gain access to extremely reliable and ubiquitous wireless communications to support a wide range of Industry 4.0 use cases including those discussed here.
Improved data and data communications will transform every aspect of rail operations from maintenance scheduling and automated yard work to worker safety and an improved digital passenger experience. This is the exciting promise of Rail 4.0 and the route to a more sustainable transportation future.