MECX Group to Sponsor Millian's CP6 Launch Event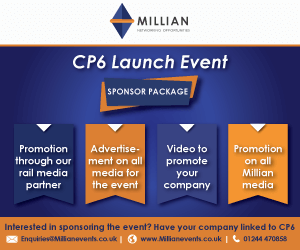 Millian are proud to announce that MECX Group will be working closely with us over the next 8 months to ensure that the CP6 Launch event is the hottest event of 2019.
MECX Group have an extensive background in the rail & civil engineering sector. They have specialisms in an extensive range of technical activities which complement their general rail & civil engineering offering. The company work on various asset types undertaking maintenance, renewals & enhancement of the mainline rail network. As well as working on underground railways, light rail & tramways. Just some of the services that MECX provide include:-
Electrification – electrification on both mainline & light rail, covering OHLE & DC conductor rail systems. Expertise in traction, HV & DC distribution systems.
Signalling – a niche provider of signal construction, installation, testing & maintenance works & services to the mainline rail network.
Track – multi-disciplinary track renewal & maintenance service provider delivering major permanent way projects.
Asset Management – minor works & service solutions to help maintain the integrity of assets.
Support Services – providing semi-skilled, skilled & professional staff on a temporary, contract or interim basis.
CP6 Launch Event
With 47 billion pounds to be spent over the next 5 years there is a vast amount of work to be done and projects to win. This is a fantastic opportunity to go to a networking event to familiarise yourself with CP6, meet new contacts and secure some of that big CP6 spend!
Our CP6 Launch event is a black tie dinner that has been organised to bring people together during the entire evening. So whether it's during the champagne reception, or the three course meal, the huge amount of networking opportunities that will be available will allow you to corner some of that CP6 spend. Providing a buzz to the evening will be CP6 guest speakers who will provide some very useful insights & information around CP6 thereby helping you to maximise any networking opportunities.
Millian have received huge amounts of interest in the CP6 launch event, so much so, that we only have 2 sponsorship opportunities remaining. So why not do the right thing by your business and get involved in this unique CP6 sponsorship package! What have you got to lose?
To find out more please call us on +44 (0)1244 470858 or email the team today.
FOR MORE RAILWAY EVENTS & EXHIBITIONS, PLEASE CLICK HERE.