intreXis Present USB Charger for Mobile Phones and Tablets in Railway Applications
The use of mobile phones and tablets on-board trains is a growing need. intreXis has developed a new, very small USB charger (5 VDC / 2.1 A), which is ideal for installation in passenger seats or table profiles.
USB Charger for Mobile Phones and Tablets in Railway Applications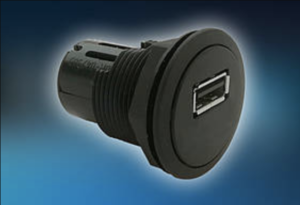 With an input voltage range of 8 to 26.4 VDC, the USB charger for mobile phones and tablets in railway applications can be operated on 12 VDC or 24 VDC sources.
For example, up to 4 chargers can be connected in parallel to the intreXis 50 W DC-DC converter IC271. The connected mobile phone is automatically detected and the optimum charging current is set.
Your advantage is that you can charge devices from Samsung, Apple and many other manufacturers with maximum charging current. If the USB charger is damaged by vandalism, it can be easily and inexpensively replaced as a single item.
IntreXis
intreXis Power Supplies boasts a comprehensive portfolio of advanced Power Supplies for transportation and medical applications. Ranging from 10W up to 1000W output power, intreXis Railway Power Supplies are widely used; from control and rail automation systems to video surveillance systems, communications systems, e-ticketing systems, and passenger information systems. Whats more, intreXis AG is one of the world's leading providers for Power Supplies used in high-capacity applications worldwide.
Power Supplies Swiss Quality!
intreXis Power Supplies are manufactured on fully automatic SMD machines. Each circuit board is already checked during the production process with automated optical inspection (AOI) for possible errors. Our production facilities in Malaysia, Romania and Switzerland work to the highest Swiss quality standards.
The computer-controlled function test systems are developed and programmed by intreXis-engineers. Each power supply is tested extensively before delivery on these test systems and all measured values are stored.