Schaltbau Machine Electrics Ltd
Featuring double-break contacts and positive opening operation, snap-action switches from Schaltbau have proven for 40 years to be the ideal components for safety systems. Both a high breaking capacity and up to 10 million operating cycles provide solid reasons to make Schaltbau switches the components of choice for realising the functional safety of machines and systems.
Variants for Extreme Conditions
For applications characterized by harsh environmental conditions Schaltbau GmbH has developed some special variants.
The S926 and S970 series switches have a ruggedised housing made from polyetherimide (PEI). The high-performance thermoplastic used as housing material stands for better resistance to:
temperature (from -55 °C to +150 °C, dependent on version)
chemicals (e.g. acids and alkalis)
impact (PEI more resistant than PC)
The amber, transparent switches are ideally suited for applications where impact forces are high and/or frequent as well as for use in products that are exposed to strong chemicals and the extremes of temperature.
The 9xx series switches have the same design, dimensions and technical features as the switches of the standard S8xx series, allowing for the easy replacement of a standard switch without additional implementation effort. So upgrading will be no problem.
Schaltbau Snap-Action Switches
Snap-action switches are designed with a snap mechanism that allows extremely fast switching, practically regardless of the duration of actuation. This makes the operating position precisely reproducible and controls the arc more efficiently. Snap-action switches from Schaltbau are designed for industrial applications that place high demands on the reliability of both components and systems. They can switch both control currents and loads reliably and precisely. They are capable of doing so up to 10 million times, depending on the series.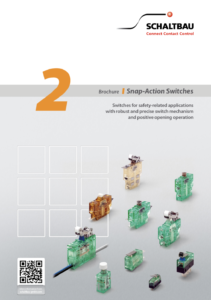 Schaltbau Snap-Action SwitchesDouble-break contacts
High electrical switching capacity
High changeover speed
Short bounce times
Snap system and contact system decoupled
Wiping, self-cleaning contacts
Long life
Pos. opening operation, IEC 60947-5-1 Annex K
Versions with ingress protection rating IP67
High resistance to shock and vibration