Schaltbau Machine Electrics Ltd
Uninterrupted Operation
Modern and efficient transportation systems require safe railway vehicles with low downtime and maintenance. Here the quality and reliability of the components used is the decisive factor. Schaltbau electrics for rolling stock fully meet these requirements of OEMs and railway operators alike. They are used in rail vehicles all over the world, where they ensure safe and smooth operation in the harsh railway environment.
Schaltbau develops and manufactures a wide range of electric equipment and subsystems for use in passenger coaches, locomotives, multiple units, light rail vehicles, trams and buses that meet all safety and quality requirements of the applicable standards.
Schaltbau's expertise and technological capabilities provide pioneering and cost-effective solutions for the railway industry
Schaltbau Electrics for Rolling Stock
Schaltbau control devices such as master controllers, toggle switches, electronic buzzers as well as dead man's handles and foots witches are to be found in all kind of trains all over the world. Modular master controllers are assemblies of standardised components, can be configured individually or be totally customized.
With them it will be easy to design state-of-the-art driver desks and cabins.
Schaltbau also has proceeded along the path to standardisation and modularization as indicated by UIC 612. Consequently, our master controllers are SIL compliant and our toggle switch consoles and assemblies have a bus capability. What a short time ago was a simple display, today is offered as full-blown touch screen PC with unlimited interactive functionality. Schaltbau is even ready for today's fully automated driverless metro systems offering a small size, compact, detachable version of a complete driver desk. Thus the driver desk, complete with master controller and brake controller, has developed into a scalable concept for subsystem integration which can be easily adapted to even the most confined installation situation.
Popular Schaltbau products the passengers come in touch with are the controls for their use in the compartments and displays like "WC occupied" as well as the emergency brake handle in carriages and multiple-unit trains.
To handle UIC voltages safely and reliably is the trademark of Schaltbau switchgear such as the AC vacuum circuit breaker, the disconnecting and earthing device, the high-voltage switchgear cabinets, the safety contactor for such switchgear as well as sensors and control gear.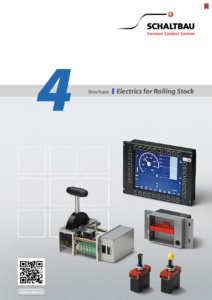 Changeover units, for instance, are needed in international mainline service for reconfiguring the control circuits of the auxiliaries with the change of catenary voltage after crossing the border. For this purpose Schaltbau has added rotary scissor switches to its product range of control gear. The two, three and four position changeover switches have an open modular design and are easy to configure and customize.
Equipment for driver's cab
Equipment for passenger use
High-voltage switchgear
High-voltage heaters
High-voltage roof equipment
Equipment for electric brakes
Design and engineering of train electrics to customer requirements