Altro
Altro Helps to Maintain the Wow Factor
As an operator providing around 976 services a week to some 20.6 million passengers a year, a quality customer experience is absolutely paramount for Virgin Trains East Coast. So when they decided to embark upon a substantial £21 million upgrade of their existing fleet of 44 trains, Virgin Trains had a clear idea of the right companies to partner with on the project.
With routes covering distances of up to 580 miles between London and Inverness, Virgin Train's rolling stock needs to offer outstanding comfort, safety and visual appeal without compromise.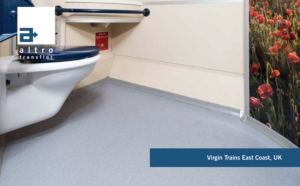 Altro Transflor Met
Another key factor to Altro's selection for the project was the proven performance and durability of Altro's flooring solutions.
Altro Transflor Met has been used prominently in high foot traffic areas of the Virgin Trains vehicles, including public conveniences and buffet cars.